"Oghlan Bakhshi" was born into a musical family in 1993 in Gonbad-e Kavus in Iran. At the age of 6, he started learning music alongside his father Adbol-Ghaffar Geldi Nejad. 
In 2009 with the invitation of Turkmenistan, he started studying at D.Ovezov musical college, and in 2013 he graduated with his bachelor.
During his education, Turkmen Music great masters named Chari Sahetmuradov, Akmurad Chariev, and Osman Gujimov taught him.
In the 2011 Golden Turkmen Age competition where all Turkmen music masters participated, after passing many obstacles he received the gold medal in Turkmenistan.
From 2014 to 2019 in the Turkmen National Music Conservatory, he graduated in Ashgabat and completed his master's degree in Turkmen music.
He has performed many concerts on Turkmen radio and television, which is still available on the archive.
He has a background of cooperating with the National Ensemble of Young Turkmen Musicians in the way of the leader and Turkmenistan Symphonic Orchestra as dutar soloist, vocalist and performing Turkmen music with the best Turkmen music performers.
In 2015, his performance was also published in the book called "The Music of Central Asia ", page 119-120 of the book, the title "The Art of the Turkmen Bagshy" (Chapter 7).
His academic training alongside his talent led him to not only conserve this traditional music but create a new approach to music and has familiarized this music with the world, which his latest work shows.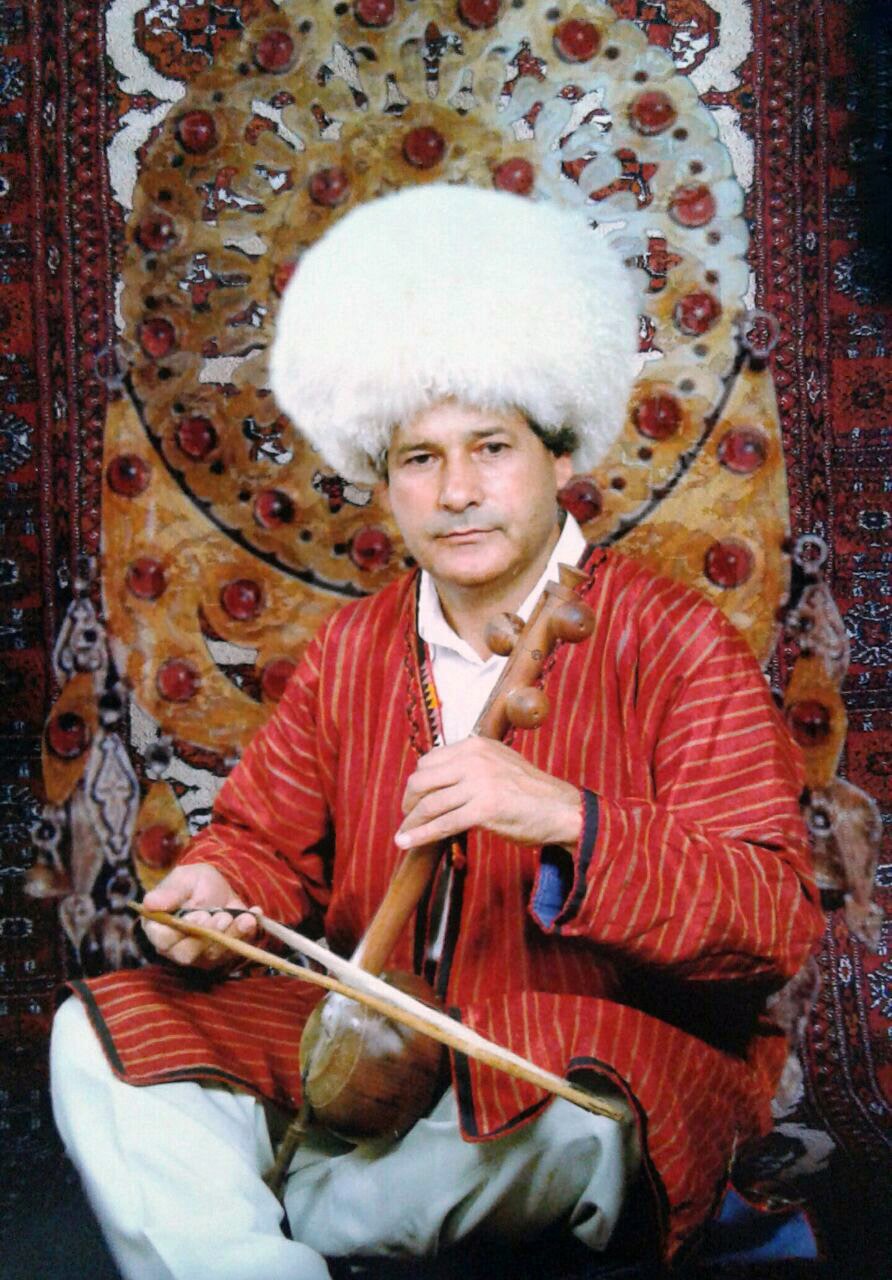 Gyjak (spike fiddle) player Abdol-Ghaffar Geldi Nejad was born in 1957 in Gonbad-e Kavus.

His first encouragement for music was his mother, in which his family, music was hereditary. One of his uncles Shadravan Rahman Ismail Zade was a singer, and player of dutar, in which they used to practice together.
Some of the professors that had the privilege to learn Turkmen music in Iran are Annaberdi Vejdani, Arazmohammad Kalte and Nazarli Mahjubi.
Abdol-Ghaffar teachings were not enough to convince him until 1984 when he went to Turkmenistan. During this travel, he learned from some of the great masters of the time in Turkmenistan such as Ata Abliyev, Khidir Meretniyazov, Annageldi Julgayev , and Akmurat Chariyev.
In 1988 with his experience and savings, he managed to assemble a group of talented players and created the Makhtumghuli Pyraghy ensemble. This group was one of the first Turkmen music groups that had an important role in preserving this music with his leadership, Makhtumghuli Pyraghy was able to win the Fajr international music festival award each year between 1988 and 1994.
He was able to establish the first Turkmen music institute (Oghlan Bakhshi institute) in 1999.
The group Oghlan Bakhshi was established by Abdolghaffar's sons Jeyhun and Oghlan Bakhshi in 2001. He acted as supervisor for the band in Iran, Turkmenistan, and European countries.
Abdol-Ghaffar Geldi Nejad believes that music is an international language that can leave deep effects on the listeners of all nations and that it is not restricted to the native language where it has been created.